he PSMA Power Technology Roadmap (PTR) is a signature effort of our association. The published report is the culmination of the PTR Committee's dedicated work in producing the series of technical webinars, and together with contributions from a large and diverse number of experts in their respective fields, compiling and analyzing data to identify the technology and application trends to produce the report. This valuable document maps out the industry's combined assessment of the technology developments and trends affecting our industry in the 5-year period ahead.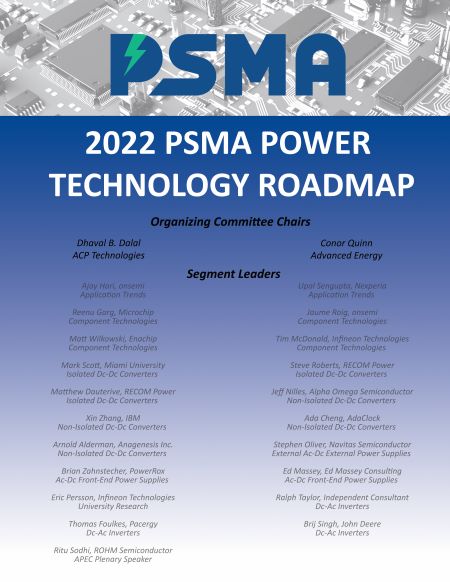 The PTR Webinar Series
The PTR Webinars are offered at no charge to attendees and registration is open to everyone, not only to PSMA members. Each seminar, drawing on industry experts investigating a specific topic, are typically attended by 150-300 registrants. Underwriting opportunities are now open for the 2023 Season of these important and well-attended webinars. As an Underwriter your organization is recognizing the value of PSMA as well as projecting your company's vital interest and contribution to the growth of our industry. The various acknowledgments the Underwriters receive will amount to thousands of exposures to members of our industry.
You can see the schedule of upcoming as well as a list of previous Power Technology Roadmap Webinars, and also join our mailing list to receive invitations to upcoming webinars, at https://www.psma.com/technical-forums/roadmap/news-events.
Underwriting the PTR Webinar Series
PSMA is now offering companies the opportunity to underwrite the 2023 season of these important and well-attended webinars. Underwriters of the PSMA PTR webinars receive promotional benefits according to three levels of Underwriting offered – Platinum, Gold and Silver – as detailed in the flyer you can download here.
This is your opportunity to be part of this worthy and necessary endeavor. There are limited Underwriting opportunities. Should your company have an interest in this opportunity, please contact us immediately at power@psma.com.