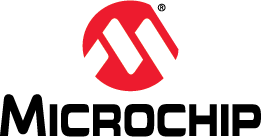 icrochip solves power system development challenges with a broad offering of digital, analog and mixed-signal products including: digital controllers; power discretes; power modules; and Power Over Ethernet (PoE) and Power Over HDBaseT (PoH) solutions.
Microchip supports power management customers with easy-to-use development tools that reduce design risk while lowering total system cost and time to market. The company also has a customer-driven obsolescence practice that ensures devices will continue to be produced for as long as customers need them. Microchip serves more than 125,000 customers across the industrial, automotive, consumer, aerospace and defense, communications and computing markets. It is at the forefront of some of the power industry's most important semiconductor technology and manufacturing advancements.
Microchip's power management offerings include:
Power Management Solutions
Microchip's comprehensive portfolio includes low-power solutions that allow battery-powered systems to operate longer, digital control solutions for efficient operation in high-power conversions, as well as digitally enhanced products that provide industry-leading flexibility for both development and production. Supported applications include: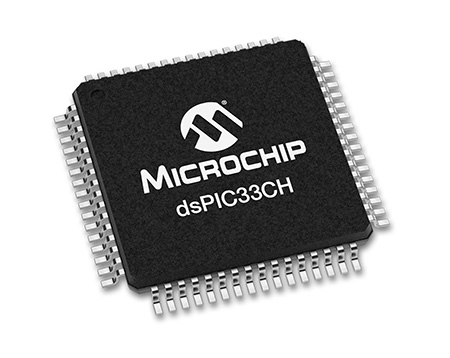 DC-DC Controllers: Pulse-width modulation (PWM) controllers, COT controllers, Digitally Enhanced Power Analog (DEPA) hybrid controllers, microcontrollers and digital signal controllers designed for power conversion applications
High-Efficiency DC-DC Voltage Regulation: Analog switching regulators in both Buck (step-down) and Boost (step-up) topologies with power good outputs, enable inputs, true load disconnect and input/output bypass.
Battery management solutions to maximize battery capacity, extend battery life and monitor charging processes.
Hot-Swap Controllers: Allow safe insertion of boards into live system backplane, control inrush currents and output voltage slew rates, and detect and isolate faults.
Motor and MOSFET Drivers: Solutions for applications ranging from appliances, automotive systems and power tools to medical and industrial equipment, in single, dual and quad configurations with a range of voltage and current drive capabilities and other options.
High-performance Low Dropout (LDO) Regulators: Linear regulators that deliver ultra-small packaging, high output current and high input voltage capabilities, low quiescent current and low-noise performance.
High-Density, Fully Integrated Power Modules: Products that simplify power system design and save space by combining a PWM controller, power MOSFETs, inductor and associated discrete passive components into a complete switching DC-DC converter solution in an ultra-compact, thermally enhanced, rugged QFN package.
Intelligent Power
Microchip delivers the next generation in digital power conversion with scalable solutions that solve problems in a wide range of applications. Its power solutions range from microcontrollers performing supervision and sequencing for the most basic level of intelligent power control/integration, to the most advanced digital control topologies with digital control engines that integrate ADCs, digital control algorithms, and PWM generators to close the loop with firmware. Offering includes solutions for:
Digital Control of Analog Regulators
DEPA Controllers
Core Independent Peripheral (CIP) Hybrid Power Controllers
Full Digital Power using Microchip's dsPIC® Digital Signal Controllers (DSCs) for the highest available performance in applications with stringent efficiency requirements, including AC-DC or DC-DC converters and power inverters
High-Performance Analog/Mixed-signal ICs for Space
Microchip also offers a family of ICs through its Microsemi subsidiary that combine high-precision, ultra-fast regulation and high efficiency in a radiation-tolerant package. Products include:
Space System Managers including position sensing and motor controllers and telemetry controllers
8-Channel Source Drivers
8-Pair Diode Arrays
Voltage Regulators and PWM
Power Discretes and Modules
Microsemi, a Microchip company, offers one of the industry's most comprehensive portfolios of power semiconductor and module products including Silicon Carbide (SiC) MOSFETS and Schottky Barrier Diodes (SBDs), rectifiers and bridges, regulators, transistors, IGBTs, MOSFETs and more. Key features include: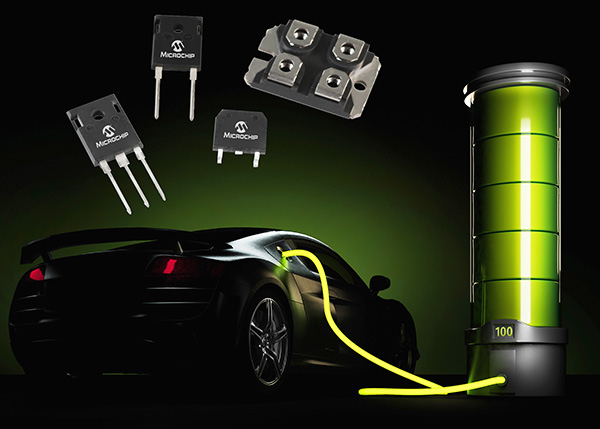 Silicon Carbide (SiC) Devices and Power Modules: Includes SiC MOSFETs, Schottky Barrier Diodes (SBDs) and power modules ideal for applications above 600 V.
Diode and Rectifier Devices: Includes standard, fast and ultra-fast, and Schottky rectifiers and rectifier modules, and an AECQ101-qualified Fred (DQ) family.
Power MOSFET and JFET: Includes linear MOSFETs, FREDFETs, N-Channel and P-Channel MOSFETS and JFETs, and MOSFET modules.
Insulated Gate Bipolar Transistors (IGBTs): Includes punch-thru, non-punch-thru and field stop IGBTs, combination IGBTs with anti-parallel diode, and IGBT modules in various topologies.
Bipolar Junction Transistors (BJTs): Offering spans BJT modules, Darlington transistors and transistor arrays, NPN transistors and complementary transistors, and PNP transistors.
Voltage and Current Regulation Diodes: Both Zener and current regulator diodes are available.
Small Signal Diodes and Diode Arrays: Includes signal or computer diodes, diode arrays and solar array diodes.
Power Modules: Includes IGBTs, MOSFETS and IGBTs/MOSFETs modules as well as rectifier and SIC modules in standard, semicustom, and full custom configurations
RF MOSFETs: Includes high-voltage options with and without driver and low-voltage RF silicon MOSFETs.
Transient Voltage Suppressors (TVS): Products span a wide voltage and power range and include solutions for DO-160 and special requirements.
Power over Ethernet (PoE) and PoH Technology
Microchip is an innovator and thought leader in Power over Ethernet (PoE) technology, a revolutionary technology that enables delivery of power over standard Ethernet cables into IP-based data terminals. Microchip is a major contributor to the 802.3af, 802.3at, 802.3bt IEEE and HDBaseT standards and offers a comprehensive end-to-end portfolio of PoE Power Sourcing Equipment (PSE) ICs, Powered Device (PD) ICs as well as PoE injectors / midspans.
Microsemi's PSE ICs product line is the broadest in the market with ICs featuring 1 to 8 ports, presenting the highest integration level and lowest total BOM cost. The PD chip product line offer to PoE PD designers an offering with and without integrated PWM controllers, which can be used as a compact way to convert PoE input power to one or more output voltages. The PoE offering includes stand-alone PoE Injectors / Midspans and Switches ranging from single-port to multi-port PoE solutions. The PoE injectors supports best-of-breed PoE deployments making it easier than ever to install PoE-enabled Ethernet-based edge devices in both indoor, outdoor and Industrial environments. The PoE multi-port injectors increases the flexibility and longevity of Ethernet networks.
The company's broad portfolio of PoE solutions includes:
PSE ICs: Designed into single or multi-port PoE sourcing equipment supporting up to 95W per port
PD ICs: Designed into Ethernet edge devices and enable them to receive power over standard Ethernet infrastructure
Ideal Diode Bridges: Fully integrated FET bridge with internal controller, significantly improves the efficiency and thermal dissipation of PoE Powered Devices
Standalone PoE single to 24-port Injectors offering up to 95W standard compliant full power per port
Fan-less PoE switch for lighting and digital ceiling applications
Outdoor PoE injectors and four-port managed switch IP66/67 rated
Analog and Mixed-Signal Solutions
Microchip's portfolio includes highly integrated solutions that combine various analog functions in space-saving packages with support for a variety of bus interfaces. For power system applications, this portfolio includes:
DC Current/Power Measurement: High-side current sensors that provide accurate current measurement, integrated ambient temperature sensing, remote diode sensing and system alert capability in DC current/power management applications.
Data Acquisition: With sampling speeds up to 200 Megasamples per second (Msps) and operation of less than 500 mW, Microchip's 12-/14-/16-bit resolution Analog to Digital Converters (ADCs) are ideal for low-power, space-constrained portable data acquisition applications.
Precision "Zero-Drift" Solutions: Precision "Zero-Drift" amplifiers provide superior DC performance, including ultra-low initial input offset voltage, very low offset drift over time and temperature, and superior power supply.
Calibration, Trimming and Set-Point Control: Digital to Analog Converters (DACs), digital potentiometers, comparators and voltage reference devices that support a variety of applications in the world of measurement and instrumentation Energy Measurement: Products for electricity metering and power monitoring applications
Simulation and Support
In addition to its product portfolio, Microchip offers industry leading support for power management applications.
MPLAB® Mindi™ Analog Simulator reduces circuit design time and design risk by simulating analog circuits prior to hardware prototyping. The simulation tool uses a SIMetrix/SIMPLIS simulation environment (with options to use SPICE or piecewise linear modeling) that can cover a very wide set of possible simulation needs.
Power Check online design review service helps in the successful use of Microchip power management devices in your design, including providing guidance on the schematic, component selection and PCB layout of your design.
Power software tools:

Digital Compensator Design Tool (DCDT) helps power supply designers by simplifying the overall process of determining the digital compensator coefficients and analyzing the control system performance. This generates dsPIC code for specific Bode responses, using many common compensation approaches.
SMPS Control Software Libraries, full of example and reference code for digitally controlled power conversion.

Evaluation boards and design kits for a wide variety of power applications.
For more information about Microchip's power management products, visit www.microchip.com.

Provided by Fionn Sheerin, Principal Product Marketing Engineer, Microchip's Analog, Discrete and Power business unit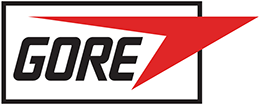 W. L. Gore & Associates, Inc.
privately held company with $3.5 billion in annual revenues, W. L. Gore & Associates (Gore) pursues opportunities where our core technologies and deep technical expertise make a meaningful impact. Gore delivers breakthrough solutions to product and process challenges in a variety of markets and industries — from aerospace to pharmaceutical to mobile electronics, and more. The wide range of Gore products includes hook-up wire to power challenging systems in military aircraft and downhole tools, navigation and communication cables for missions to Mars, fuel cell components that enable cleaner, greener transportation and power generation, venting solutions to manage the internal pressure in mobile electronics and automotive components enclosures, and cable integrity technologies for 5G applications. Our specialized medical devices treat a range of cardiovascular and other health conditions.
Gore has 9,500 Associates, with manufacturing facilities in the United States, Germany, United Kingdom, Japan and China, and sales offices around the world.
In 1958, Bill and Vieve Gore launched W. L. Gore & Associates in the basement of their Delaware home to explore the untapped potential of the polymer polytetrafluoroethylene, or PTFE. The company's first product was MULTI-TET™ Insulated Wire and Cable. It was used most widely in defense applications and in the burgeoning computer industry. In the 1960s, the company's first patent was issued and Gore's technology landed on the moon as part of NASA's historic Apollo 11 mission.
In 1969, the couple's son, Bob Gore, discovered how to modify PTFE to form a strong, porous material. This invention —expanded PTFE or ePTFE — changed the future of the enterprise and paved the way for waterproof, breathable GORE-TEX® fabric and thousands of diverse innovations.
As the company that invented ePTFE and introduced it in the marketplace, Gore remains a fluoropolymer leader, committed to engineering excellence and building on our founders' tradition of using advanced materials to improve lives and change outcomes for customers and end users around the world.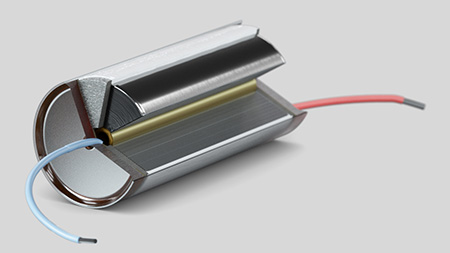 GORE™ High Temperature Capacitors are primarily used as DC-Link capacitors in challenging power electronic applications. Unlike other polymer film capacitors which typically are limited to 120°C operating temperature, GORE™ Capacitors have proven capable up to 250°C. With the introduction of wide bandgap semiconductors (SiC and GAN), the lack of suitable high temperature capacitors has become an increasingly difficult challenge for system designers. Designers are faced with adding significant design complexity or limiting system performance to prevent the capacitors from overheating. GORE™ High Temperature Capacitors will allow designers to significantly improve the total system efficiency and allow film capacitors, known for reliability, to be used in applications not possible in the past.
GORE™ High Temperature Capacitors are gaining widespread commercial use in oil and gas downhole tools with the major global oilfield service companies. Additionally, several leading aerospace design companies are qualifying GORE™ High Temperature Capacitors for multiple commercial and defense applications supporting more electric aircraft (MEA) and future all-electric aircraft programs. With the electrification mega-trend, further adoption will only accelerate as additional complementary technologies are advanced and new systems are qualified.
For more information, see www.gore.com.
Provided by Rob Haywood, Product Manager, W. L. Gore & Associates, Inc.
Editors Note: We would like to feature your company in a future issue of the Update. Please contact the Association Office for information about how to submit an article for consideration.