otivated by our customers' needs, we are focused on creating ease of access to power supply products and information that help drive an engineer's design. Our goal is to improve the way power products are purchased today and into the future.
Originally starting out as a company that sold oscilloscopes and electromechanical components, we began designing and selling power supplies as a side project. The side project grew over the years into a portfolio of ac-dc power supplies and dc-dc converters. Today we are proud to offer an extensive line of power products to our global customer base that serve the consumer, IoT, industrial, and medical industries.
We know the important role power plays in a design and that each customers' needs vary; whether it is providing accessible product data and resources, cost effective options, or the latest products that meet global regulations. Our passion is improving the experience of the design engineer. We know that helping our customers is the core of what we do and is why we are determined on providing the best set of tools, information, and services to everyone in need of a power supply.
CUI Inc, a Bel group company, whose stock trades on the NASDAQ Exchange under the symbols BELFA and BELFB.
Product Portfolio
External Ac-Dc Power Supplies
3 W ~ 300 W desktop and wall plug power adapters
Global plug configurations and multi-blade options
GaN Desktop options available, including medical versions
Certified 62368 and 60601 models available
Internal Ac-Dc Power Supplies
1 W ~ 600 W available in board mount, chassis mount, and DIN rail
277 Vac input available from 1 w~320 W
Ultra-compact options for space constrained applications
Certified 62368 and 60601 models available
Dc-Dc Converters
1 W ~600 W models available
Isolated, non-isolated and IGBT & SiC Driver options
Dual independently isolated outputs ranging from 3 W to 30 W
Certified 62368 models available

Provided by Kelly Wigginton, Sr. Director of Marketing, Bel Fuse, Inc.
Pure-Play Next-Gen Power Semiconductors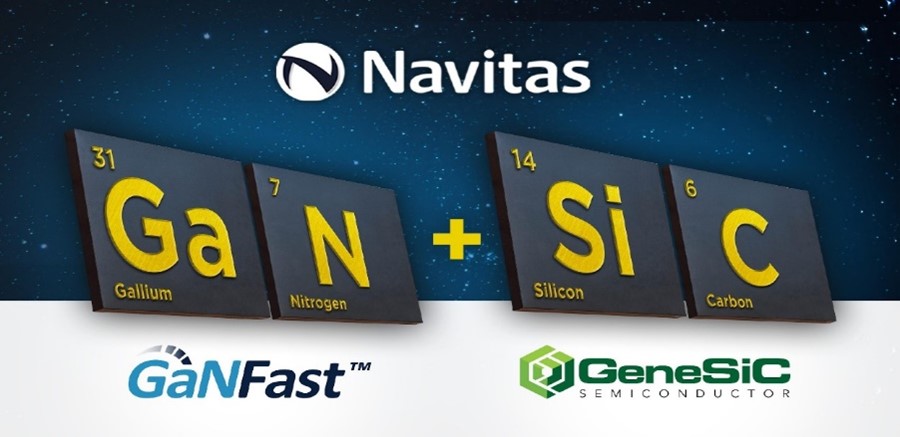 avitas Semiconductor (Nasdaq: NVTS) is the only pure-play, next-generation power-semiconductor company, founded in 2014. GaNFast™ power ICs integrate gallium nitride (GaN) power and drive, with control, sensing, and protection to enable faster charging, higher power density, and greater energy savings. Complementary GeneSiC™ power devices are optimized high-power, high-voltage, and high-reliability silicon carbide (SiC) solutions.
Focus markets include mobile, consumer, data center, EV, solar, wind, smart grid, and industrial. Over 185 Navitas patents are issued or pending. Over 60 million GaN units have been shipped with zero reported GaN field failures, and Navitas introduced the industry's first and only 20-year warranty. Navitas is the world's first semiconductor company to be CarbonNeutral®-certified.
GaN + SiC: The Future of Power Semis

The potential market for WBG semiconductors is already significant and growing rapidly as companies look to replace legacy silicon in existing applications and to harness the power of GaN and SiC in new and emerging designs where silicon cannot compete. At Navitas we estimate the combined market opportunity for GaN and SiC power technologies to be over $20B a year by 2026.
The GaN Revolution: Ultimate Integration



A gallium nitride (GaN) power integrated circuit (IC) combines several power electronics functions onto a single GaN chip, to improve speed, efficiency, reliability and cost-effectiveness. In many cases, GaN power ICs are the enabling catalyst for advanced power-conversion topologies to transition from academic concepts to industry-proven mass production designs. Using lateral 650 V eMode GaN-on-Si technology, Navitas' proprietary AllGaN™ process design kit (PDK) was created to enable the monolithic integration of GaN FET and GaN drive, plus logic and protection functions. The die can then be packaged into industry-standard, low-inductance, low-cost, 5×6 or 6×8 mm QFN packages for off-line AC or 400 V DC-input applications.
Both 'single' and 'half-bridge' GaN power ICs are available, with a broad range of power and functionality, and adaptable for a wide range of applications from tens of watts to kW in markets from mobile fast chargers, to data centers, consumer, renewables and EV / eMobility. GaN power ICs enable up to 3x faster charging in half the size and weight of old, silicon-based power electronics, or 3x more power without a size or weight increase.
Cool. Fast. Rugged



GeneSiC™ power devices are optimized high-power, high-voltage, and high-reliability silicon carbide (SiC) solutions. Focus markets include mobile, consumer, data center, EV, solar, wind, smart grid, and industrial. GeneSiC patented trench-assisted planar gate technology delivers the lowest RDS(ON) at high temperature and the lowest energy losses at high speeds. This enables unprecedented, industry-leading levels of performance, robustness and quality.

Provided by Llew Vaughan-Edmunds, Senior Director of Marketing, Navitas Semiconductor
Editors Note: We would like to feature your company in a future issue of the Update. Please contact the Association Office for information about how to submit an article for consideration.