our members of the Board of Directors are elected at the PSMA Annual Meeting held every year during the APEC conference. Each Director serves a three-year term and is eligible to be reelected for one additional term.

At the PSMA Annual Meeting in March 2019, four new directors were elected to the PSMA board. Last issue we introduced you to Ada Cheng and Trifon Liakolpoulos. In this issue, we would like to introduce you to Ralph Taylor and Matt Wilkowski.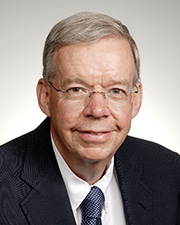 Ralph Taylor has a BSEE form North Carolina State University and is currently a Staff development Engineer at Delphi Technologies. His automotive career started with General Motors, Delco Electronics Division in 1979. He started in manufacturing development working as part of a team on the controls and software for high volume automated test and assembly equipment. (Radio testers, flip chip assembly systems, substrate assembly systems and an assembly robot for surface mount integrated circuits the fastest most repeatable robot ever tested by GM research). He then moved to advanced engineering where he was involved with controller design and software for various body and chassis systems. (Security systems, ABS controllers, Speed sensitive steering systems and window jam sensing system).
Ralph has been actively engaged in power electronics for Electric Drive Vehicles (EDVs) since 1990. He has been involved with system architectures and design of many EDV components, some of which are battery management systems, system controllers, that convert user inputs to torque commands, inverters for various EDVs including electric scooters, autos, heavy-duty trucks and off-road construction equipment and has been involved in architecting and designing power electronic systems for various demonstration electrified vehicles around the world.
He has been a Principal Investigator on several successful DOE Vehicle Technologies programs related to automotive power electronics. These programs include high temperature inverters and replacement dielectrics and manufacturing processes for DC link capacitors currently being used in electric drive vehicle inverters. He has 14 patents, has been inducted into the Delphi Technologies Hall of Fame and is a recipient of the Boss Kettering award (the highest achievable engineering award within the company).
Ralph's experience with various programs and customers has allowed him to work with our national labs, universities and numerous research organizations related to advancing transportation power electronics. He has been involved with the Power Sources Manufactures Association (PSMA) for many years and is currently co-chair of the PSMA Transportation Power Electronics Committee.


Provided by Ralph Taylor, Staff Development Engineer, Delphi Technologies
Matt Wilkowski
Matt Wilkowski has been involved with the design and productization of power magnetic components for integration in power converters for over forty years. While at Torwico Electronics, Matt design power magnetics for aerospace and military applications. During his tenure at AT&T Bell Labs/Lucent Technologies/Tyco Electronics Power Systems from 1983 thru 2003, Matt was responsible for the technology road mapping, product design and verification, commercialization and ongoing product support of power magnetics that that were integrated in the assembly process of power converters intended for telecommunication applications. This work entailed the development of inductor and transformer product families to support wide ranges of input and output voltages for different power ranges from 1 watt through 10KW for emerging circuit topologies to take advantage of switch frequencies from 500 kHz thru 20 MHz and accommodating physical assembly integration as well as thermal integration etc. into both ac-dc and dc-dc power converters. While part of Enpirion from 2003 through 2013, Matt became more focused on the integration of power magnetics into semiconductor device packaging leading to the commercialization of a wide product portfolio of Power System in Package (PSiP) devices. With the acquisition of Enpirion, Matt was a technology architect at Altera and transitioned to a principal engineer at Intel after the acquisition of Altera focused on the development of power magnetics for various integration levels (highly, fully, etc.,) of integrated voltage regulators (IVRs). He is currently the Magnetics Technology Architect at EnaChip and is focused on commercialization of wafer level magnetics to address various market applications.

Matt is an active member of the PSMA Magnetics Committee and has been on the organizing committee of the Power Magnetics @ High Frequency pre-APEC workshop series since the first workshop in 2016.

As a director for PSMA, I will try to use the position to give back to the industry by relying on my technology development and productization experiences over the past forty years to develop greater levels of integrated power products. This will include fostering and continuing various workshops and seminars on compelling hot topics across the various disciplines of power source product development as well as facilitating special projects deemed necessary to keep the power sources industry moving forward to meet the emerging needs of the electronics marketplace.



Provided by Matt Wilkowski, Magnetics Technology Architect, EnaChip