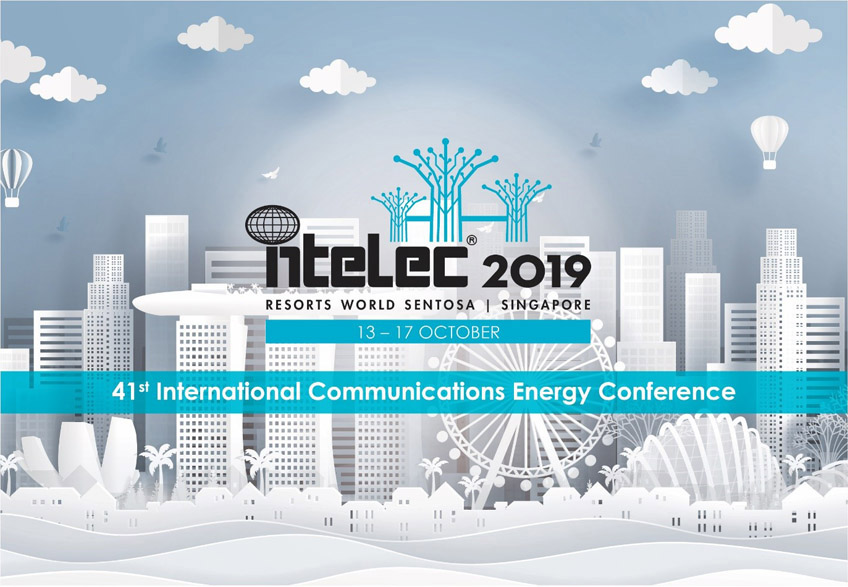 or 40 years, IEEE's INTELEC® (International Communications Energy Conference) has been the premier international technical forum where the science and engineering of energy systems for communications networks is canvassed amongst academia, industry and infrastructure operators.

The 41st annual edition of INTELEC® takes place 13-17 Oct, 2019 at the Resorts World Sentosa in iconic Singapore. This is the first time INTELEC® will be in the South-east Asia region. The theme for INTELEC® 2019 is Tackling the challenges of powering ICT infrastructure.

INTELEC® in contemporary times…

There is an artisan component in the discipline of providing highly-available energy to power information and communications technologies (ICT) systems. Telecommunications requires electricity. Back-up power schemes involving redundant power conversion, energy storage, and distribution schemes have traditionally been used to prevent communications service loss in the event of failure of the primary source of electricity. The reporting of research and development in power conversion electronics, energy storage, such as batteries, and power system architectures are core to INTELEC®. But digital convergence has greatly changed the traditional landscape and ICT networks have evolved into highly distributed systems in which there is no direct electrical connection between the edge network elements and the central facilities.

Digital communications are now ubiquitous, and digital communications networks and information hubs continue to expand and grow throughout the world. The growth is energy hungry and the demand for new energy to support information and communication technologies has continuously been increasing.

This growth has been, in a great part, motivated by society's increased dependence on ICT networks. Hence, society expects that quality of service remains unchanged even during abnormal operating conditions caused by a disruptive event. But as the value of the content of digital transmissions increase, so too does the dependency on the availability of the energy systems supplying the network. The electrons must be there when they are needed. For instance, 5G is seen as a catalyst for enabling a bold new future of an Internet-of-Things (IoT). However, 5G will be more highly distributed than previous cellular networks, and due to expected human-machine and machine-machine interactions enabled by 5G, there is an implicit need for power supply availability and resilience higher than with current networks. Legacy architectures and networks will exist for many years throughout the world and operators must find ways to ensure practical interoperability. Emerging concepts with local (low power) generation forming DC nanogrids and wider-area microgrids creating district energy systems, integrated with the distribution networks of the traditional AC electricity grid are areas of current research. At the same time, developments in power conversion electronics and batteries provide new opportunities to better manage and extend legacy powering infrastructure. INTELEC® is the place to report, share and discuss such ideas and developments.

Call For Papers

INTELEC® 2019 Technical Program Co-chairs, Prof. PS Lee, (University of Singapore), and Prof. Alexis Kwasinski, (University of Pittsburgh), invite technical contributions from the following multi-discipline matrix: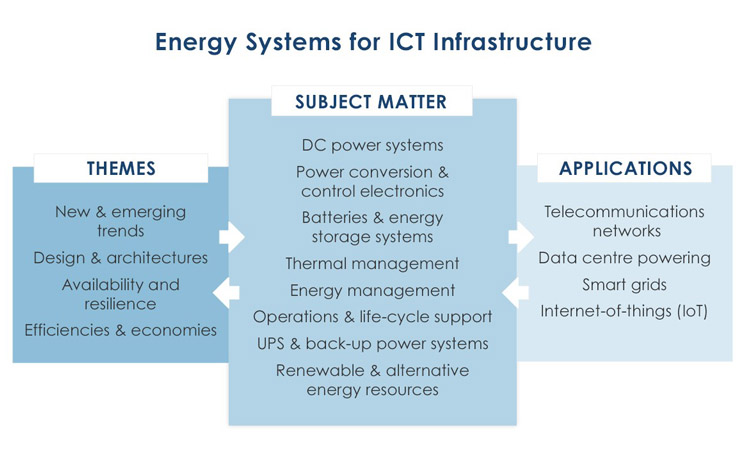 If you are working in any of these areas, please submit a paper or poster. Digests for peer-review selection closes on 8 April 2019. Notification of acceptance by 31 May 2019, and accepted full papers are required by 15 August 2019. Technical papers and posters presented at INTELEC® 2019 will be up-loaded to IEEE Xplore (subject to IEEE rules).

If you have not already received the call for papers, go to www.intelec2019.org for full details, and ensure you register on the mailing list.
Conference…

INTELEC® 2019 is a full technical conference with an associated Industry Exhibition to showcase the latest in power conversion equipment, energy storage options, and system integration designs for ICT energy systems. INTELEC® is where you will meet colleagues in the same field, exchange ideas and hear from academic and industry leaders about important emerging trends and developments.

The preliminary program overview for INTELEC® 2019 are: -
A pre-conference day of educational tutorials
150+ (expected) peer-review selected papers & posters
approximately 35 oral and 2 poster presentation sessions
Special Interest Seminars.
Daily Plenary or Keynote talks
Plenary-Forum (workshop) theme streams
A Commercial Product Exposure stream
Social events
Technical tours.
4-day Industry Exhibition
INTELEC®'s long success is linked to the structure of the Industry Exhibition where academia & researchers, industry product developers and vendors, end-users and infrastructure operators mix and network throughout the conference.
If none of the above is enough, the lure to go to INTELEC® 2019 then must surely rest with the location - iconic Singapore. If you have not been to Singapore, maybe use INTELEC®2019 as your excuse to get there. It is truly a magnificent modern city, with impressive architecture, and full of very friendly and welcoming Singaporeans.

For more information on the INTELEC 2019 conference please visit the conference website www.intelec2019.org