Power Magnetics @ High Frequency
Date: Saturday March 14, 2020
APEC 2020, New Orleans, Louisiana
The High Frequency Magnetics workshop series will continue to be held the Saturday before APEC. The fifth workshop of the series will be in conjunction with APEC 2020 in New Orleans, Louisiana. The post workshop survey of the recent 2019 workshop has identified two themes -winding techniques and characterization and modelling. The survey results also proposed a pool of both volunteer presenters and requested presenters. The workshop will also make available Continuing Education Credits (CEC) to workshop attendees going forward. The workshop organizers will continue the tradition of the first four magnetics workshops, held each year since 2016, by bringing together experts from all aspects of the magnetics industry research and academic organizations, world renowned consultants and the everyday heroes of magnetics design who are responsible for commercializing magnetic products on a regular basis to address the two major themes: winding techniques and characterization and modelling.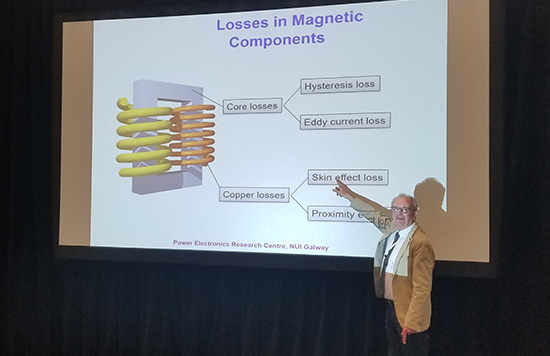 The fourth Power Magnetics @ High Frequency workshop sponsored by the PSMA Magnetics Committee and IEEE PELS was held on the day before APEC 2019, Saturday March 16, 2019 from 7:00 AM thru 6:00 PM in Anaheim California. There were 110 attendees, with about 78% of the attendees from industry and 22% from academia/research. The consensus was "… the workshop was much more intimate with productive and valuable interaction between the presenters and the attendees…" which derives from the structure of the workshop, including panel discussions and technology demonstrations to supplement traditional lecture type presentations, which lead to high energy dialogue between the attendees and the invited experts throughout the workshop.
This fourth workshop addressed two specific focus area: ac power losses and thermal considerations for power magnetic components. Many thanks to the invited presenters and panelists who included Gerald Hurley (National University of Ireland - Galway), Marcin Kacki (SMA Magnetics), John Hayes (University College Cork), Charles Sullivan (Dartmouth), Seung Moon (NETL), Peter Wilson (University of Bath), Subhashish Bhattacharya (North Carolina State University), George Slama (Wurth Elektronik), Qichen Yang (AC Propulsion). Alex Gerfer (Wurth Elektronik), Mark Allen (University of Pennsylvania), Jenna Pollock, J. C. Sun (Bs&T Technologies), Apurva Ingle (Wurth Elektronik), Hebberly Ahatlan (Wurth Elektronik), Chris Oliver (Micrometals), Chuck Wild (Dexter Magnetics), John Lynch (Fair Rite) and Kenichi Chatani (Kemet).
The focus and interactive activities of the workshop series will continue to evolve to support its purpose:
identify the latest improvements in areas of magnetic materials, coil (winding) design, construction and fabrication,
identify, discuss and demonstrate evaluation techniques, characterization techniques modelling tools and simulation tools needed to meet the technical expectations and requirements for power magnetics operating at higher frequencies for a wide range (1 watt thru 100 kilowatts) of output power applications.
identify and discuss the technical expectations and requirements of higher application frequencies and emerging topologies that are being driven by continuous advances in circuits topologies, semi-conductor devices driven by new market applications for both low-power and high-power applications.
Anyone interested in participating as a lecture presenter as part of the technology demonstration session during the next workshop planned for March 14, 2020 in New Orleans Louisiana should contact the PSMA office (power@psma.com). We are looking forward to the fifth workshop and driving the industry forward to meet the expectations of the workshop attendees.
Meanwhile keep checking https://www.psma.com/technical-forums/magnetics/workshop for the latest news on the upcoming workshop.
Organizing Committee
Steve Carlsen, Raytheon Systems Company
Ed Herbert , PSMA
Jenna Pollock, SF Motors
Rodney Rogers, Allstar Magnetics
George Slama, Wurth Elektronik
Fred Weber, Future Technology Worldwide
Chuck Wild, Dexter Magnetic Technologies Inc.
Matt Wilkowski, EnaChip