Indium Corporation

ince its founding in a small garage in Central New York over 85 years ago, Indium Corporation has established itself as a leader in the research and development of new materials and products to solve the industry challenges of today and the future. Now a global company with 13 facilities worldwide, Indium Corporation believes that materials science changes the world, and their commitment to innovation is reflected in the continuing growth of the company's R&D department.

Indium Corporation is dedicated to providing proven, reliable materials for power electronics in automotive, mobile, 5G infrastructure, and other applications across the globe. This commitment is seen in their collaboration with industry partners and customers to address the challenges facing the industry, as well as in their own devotion to developing cutting-edge materials that meet or exceed the ever-evolving power requirements.


As a result, Indium Corporation has developed a wide portfolio of industry-proven materials for power electronics, ranging from solder paste to solder preforms and ribbons, thermal interface materials, and silver sintering paste, such as:

InFORMS® reinforced solder alloy fabrications that improve mechanical and thermal reliability while ensuring uniform bondline thickness. InFORMS® also address specific challenges of the power electronics industry by providing an enhanced material for the development of more reliable and higher performance modules.
QuickSinter® silver sintering paste delivers consistent, high-speed sintering on a variety of surfaces and die metallizations. QuickSinter® works well in both high- and low-temperature pressure or pressureless applications. It can be used for discretes, small modules, and integrated power modules.
Metal thermal interface materials (TIMs) are available for a wide variety of applications and process challenges. Heat-Spring® TIM offers uniform thermal resistance with minimized surface resistance and increased heat flow. HSMF is a compressible TIM that is ideal for large area thermal interface requirements, such as IGBTs.
Indium Corporation is a premier materials manufacturer and supplier to the global electronics, semiconductor, thin-film, and thermal management markets. Products include solders and fluxes; brazes; thermal interface materials; sputtering targets; indium, gallium, germanium, and tin metals and inorganic compounds; and NanoFoil®. Founded in 1934, the company has global technical support and factories located in China, India, Malaysia, Singapore, South Korea, the United Kingdom, and the USA.
For more information about Indium Corporation, visit www.indium.com. You can also follow our experts, From One Engineer To Another® (#FOETA), at www.facebook.com/indium or @IndiumCorp.
Provided by Jingya Huang, Marketing Communications Assistant Manager, Indium Corporation
MinDCet NV

inDCet is experienced in application-specific integrated circuits (ICs) development for power electronics and measurement systems with over 10 years of innovative solutions. The company was founded by Mike Wens and Jef Thoné as a spin-off from the KULeuven University in Leuven, Belgium. Since then, the MinDCet team has grown to become world-renowned specialists in analog-mixed mode and high-voltage IC design. MinDCet's measurement systems business unit is developing and delivering state-of-the-art inductor and capacitor measurement equipment to globally renowned passive component manufacturers and related industries.
IC Design & Production
Our customers require unique integrated circuit solutions, as off-the-shelf products cannot fulfill their requirements. MinDCet develops encompassing solutions in partnership with the customer by guiding them from the idea stage to the implementation of the custom IC. During this process, MinDCet takes care of the entire development and production chain. Dedicated teams of IC designers, layout engineers, characterization/test engineers and application engineers ensure a predictive and controlled flow from idea to final product. Whether your product needs radiation hardening, high temperature-, high-speed-, high-voltage- and high-reliability-capabilities, MinDCet has the expertise and readiness to provide a fitting result.To date, Astronics power engineers have generated dozens of patents for power systems on aircraft.
| | | |
| --- | --- | --- |
| A lab-technician programming a production IC test setup. | | A 40V / 5A intelligent half-bridge IC. |
MinDCet is your single point of contact, taking care of the entire IC process: foundry access, prototyping, characterization, packaging, test development, and the final production and testing. Our network of partners ensures a stable production flow. Since 2019, test development and final production testing are conducted in-house in our new cleanroom facilities. This approach offers significant benefits in timing and cost reduction as the characterization and test steps are combined. Additionally, the closed-loop interaction between our test engineers and IC designers enables short response times, an essential aspect towards a stable production flow.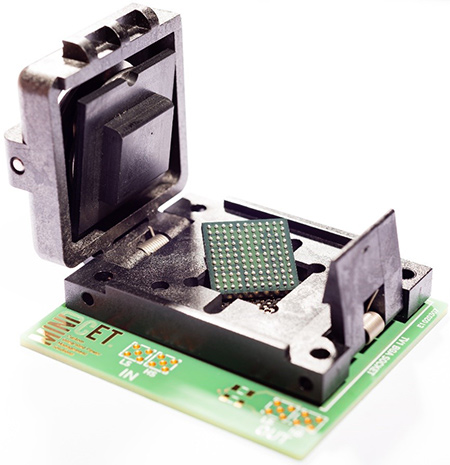 A BGA packaged GaN gate-driver IC
and the test-socket.
MinDcet Standard IC Solutions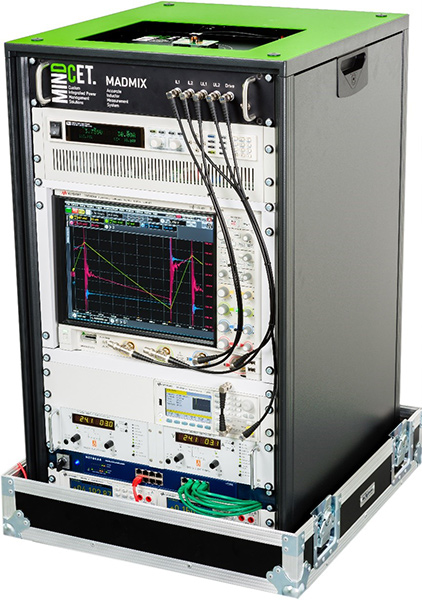 The MADMIX inductor measurement system.

MinDCet firmly believes in a green future driven by wide-bandgap power electronics. Consequently, we have an established track record in developing supporting ICs for wide bandgap circuits, specifically GaN and SiC gate-drivers, signal isolators and monolithic GaN power ICs. Currently, our unique gate-driver solutions are being launched as standard products to further enable wide-bandgap power electronics applications.


Measurement Systems

In the early days of MinDCet, we discovered that switched-mode power supply (SMPS) inductors and capacitors were missing the required models to accurately simulate SMPS circuits. As a key component in the power IC development, this deficit triggered our in-house development of the MADMIX and MADCAP equipment. These patented systems allow measurement of AC losses in SMPS inductors and capacitors under real-life, switched-mode stimuli. Although initially developed for internal use, today this equipment is commercially available and found in many labs throughout the world.

Future Outlook


We live with power on our minds, pushing the power electronics industry to the next level. MinDCet's success story will continue with cutting-edge power products, available in the near future. Stay tuned at www.mindcet.com.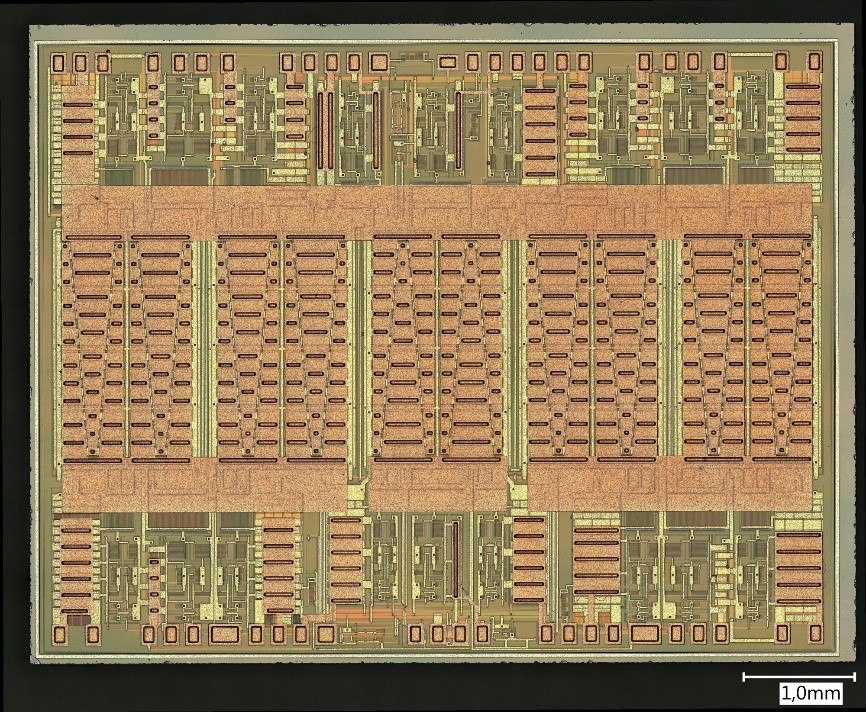 A micro-photograph of a 200V monolithic GaN half-bridge with integrated gate-drive.
Provided by Mike Wens, CEO, Managing Director, MinDCet NV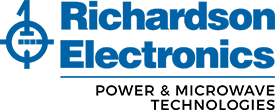 Richardson Electronics – Power & Microwave Technologies


or over 70 years, Richardson Electronics has been an industry-leading global provider of engineered solutions, power and microwave components.

With an extensive global supply network and a presence in over 43 countries, we are well equipped to meet the challenges and considerations unique to any location around the world. We speak the local language and transact in local currencies.


Power electronics is one of our two focus markets. Thanks to our history and specialization in vacuum tubes, we have test capability and experience that reach exceptionally high voltages and high power- up to 100kV and over 100KA.
Leading edge technologies we distribute and support include Silicon Carbide devices and ultracapacitors for a range of applications, along with current generation IGBTs, capacitors, batteries, gate drivers, magnetics, thermal management and related products. Our partners are in the US, Europe, Korea, Japan, China and more; giving us the best performance at competitive costs. Familiar names include Cornell Dubilier, Fuji Semiconductor, LS Mtron, Tamura, UnitedSiC, Starpower, Kendeil, Ohmite and more.

We are more than just a specialized distributor. By and large, we are experts in identifying and designing in disruptive and leading edge technologies, introducing new products to the market, developing solutions for our customers' needs, and providing exceptional global support.

As a manufacturer and authorized distributor, Richardson Electronics – Power & Microwave Technologies' division provides specialized technical expertise and engineered solutions based on our core engineering and manufacturing capabilities. We also provide solutions and add value through design-in support, systems integration, prototype design and manufacturing, testing, logistics, and aftermarket technical service and repair—all through our existing global infrastructure. Our portfolio of products and detailed product specifications, and other valuable information can be found on https://www.rellpower.com/.



Provided by Jeffrey T. Kerner, Business Unit Manager, Power & Energy,
Power & Microwave Technologies, Richardson Electronics, Ltd.

Editors Note: We would like to feature your company in a future issue of the Update. Please contact the Association Office for information about how to submit an article for consideration.