lex Power Modules (formerly Ericsson Power Modules) is a subsidiary of Flex that predominantly designs and manufactures board-mounted DC/DC conversion products. With products primarily designed for use in Telecom & Radio and Datacom (including supercomputers), Flex Power Modules also offers board-mounted system solutions for other demanding applications such as the Industrial & Transportation, Energy and Military sectors.

Flex Power Modules is headquartered in Stockholm, Sweden, and has design centers in Kalmar, Sweden, and Shanghai, China. Manufacturing is also carried out in our factory in Shanghai. The emphasis is on quality and highly automated production, making the company one of the largest volume manufacturers in the power-modules industry, having delivered more than 100 million modules to the market worldwide.
Flex Power Modules is one of the top technology leaders in the world and is positioned number one for digital power solutions as well as number two for board-mounted products for Information and Communication Technology (ICT).
ABOUT OUR PRODUCTS
Flex Power Modules has many industry-first innovations to its credit, developed over 40 years of operation supplying solutions for distributed power architectures, intermediate bus architectures and, most recently, Direct Conversion technology.
Our products can be categorized as board-mounted DC/DC converters and power management devices based on both analog and digital control technology.
Our analog portfolio comprises isolated and non-isolated DC/DC converters offering power ranges from 1.65W to 860W with fractional bricks and industrial form factors. Key features of these analog products are high reliability and high efficiency, achieved by continuous development of the products implementing the newest components. Utilization of our own IP design process makes these products unique and positions them as reliable, robust and price-attractive solutions for the power markets.

Flex Power Modules' DC/DC converters are available in multiple industry-standard footprints including the Distributed-power Open Standards Alliance (DOSA) and the Point of Load Alliance (POLA) for analog solutions. Converters have a current range from 2.25A up to 60A.
Flex Power Modules released the first digital isolated DC/DC converter 10 years ago – being the first one ever with a digitally controlled IBC converter on the market. Now, the fourth generation of digital IBC DC/DC converter had been released. The key features of this product group are high performance with up to 1.3kW, high efficiency up to 97% and fast load-transient response.
All our digital power modules can be used with our own Flex Power Designer (FPD) software. FPD can be used offline to sketch, simulate and optimize complex multi-rail power designs for many Flex Power Modules products. FPD is used online for monitoring, testing and configuring power design via the PMBus interface.
 
Most of our digital point of load (PoL) solutions follow AMP standard and have PMBus interfaces. Flex Power Modules PoL converters can deliver up to 120A from a single module, but we also offer dual-output modules that can either be configured for two independent channels per rail or a single output with double current capacity.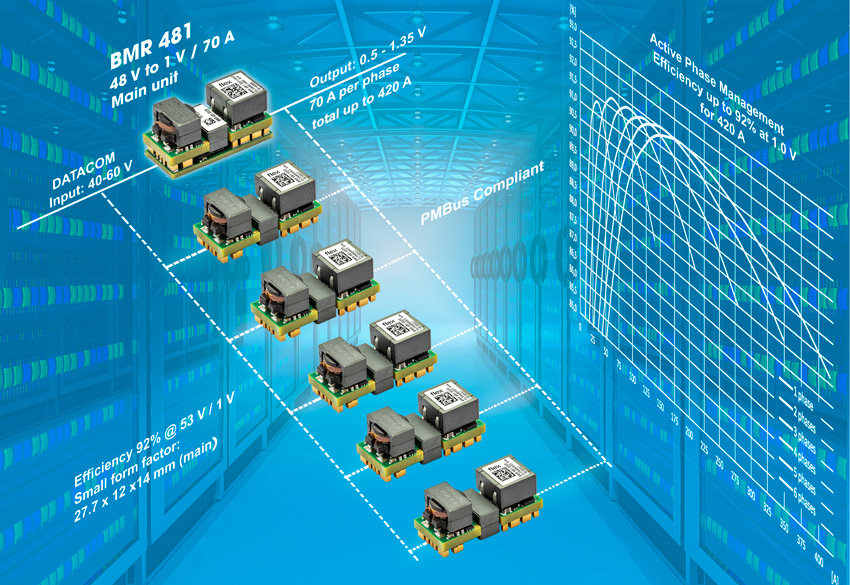 Direct Conversion products offer modular board-mounted solutions for power conversion from a nominal 48/54V input direct to the silicon voltage. They are intended to power high-current rails required by the latest central processing units (CPUs), graphic processing units (GPUs), field-programmable gate arrays (FPGAs) and memories. They support communication protocols such as PMBus, AVS, Intel's VR13 and IBM's Power9 (P9).

Power interface modules (PIMs) simplify the design in blade servers based on AdvancedTCA standards and other applications. Offering features such as EMI filtering, hot-swap, dual-feed OR-ing, hold-up function, reverse polarity protection and auxiliary management power, PIM devices can be used for any industrial or ICT application employing a distributed power architecture.
Flex Power Designer software goes beyond converter configuration and provides an overview of the whole power system, enabling our customers to define relationships across rails – phase spreading, sequencing and fault spreading.
The built-in simulation enables power-stage analysis to optimize tuning and visualize design behavior against the existing power requirements, including load-transient response, output impedance and power dissipation.
Power Designer features include:
System configuration and efficiency estimation of the entire power system
Configuration and simulation of the control loop, transient response and power dissipation
System functions for sequencing, tracking, paralleling and synchronization/phase spreading configuration
Easy configuration and monitoring of your digital power modules
Flex Power Modules offers several different evaluation boards and other useful test tools (e.g. electronic load) available for customer evaluation of our power modules.
FLEX POWER MODULES' PRODUCT DEVELOPMENT
Every product design is the result of extensive research and development in power technology, with a broad application and system knowledge and a focus on design for environment and design for manufacturing.
The result is:
High efficiency over a wide load range and high power density
Efficient thermal management leading to low total cost of ownership over product lifetime
Excellent dynamic load performance
High mean time between failures (MTBF) and long lifetime
BENEFITS OF DIGITAL POWER
Utilizing digitally controlled power converters allows a significant reduction in design and debugging time. In case of changes in requirements, there is no soldering iron required, as most changes can be done via PMBus – the digital interface with assistance from our FPD software. The whole development process is simplified due to the application of simulation tools. In addition, debugging of prototypes is easier due to the availability of monitoring and failure event information.

Digitally controlled modules are much more flexible and offer a wider functionality range.
For our customers, production and logistics costs are reduced by using products for multiple applications (the same product can be easily re-configured).

Digital power modules require fewer components, which increases the reliability of the whole product.
For more information about Flex Power Modules' products and solutions, you are welcome to contact us by email – pm.info@flex.com – or visit our homepage: www.flex.com/powermodules

Provided by Tuuli Waern, Technical Marketing Manager, Flex Power Modules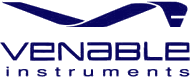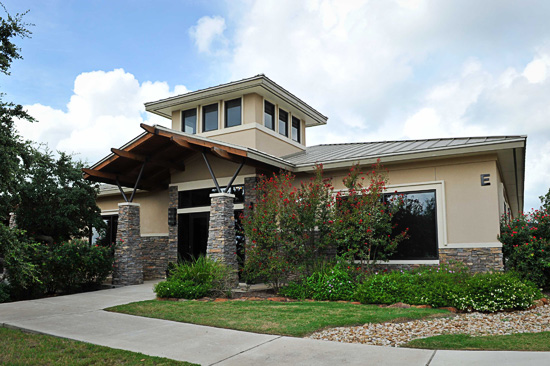 Venable Instruments provides the most versatile, full featured Frequency Response Analyzers to customers in industries where precise testing and measurement tools for power electronics design are fundamental. Venable Instruments' roots go back to 1979, when H. Dean Venable developed a straightforward method for analyzing control loops, with a primary focus on power supply compensation. Building on a concept developed by R. D. Middlebrook, Dean Venable created a system by which power supply designers could measure and characterize and power supply modulator performance, create appropriate compensation, and thusly achieve desired closed loop performance. This gave birth to the modern Frequency Response Analyzer and Stability Analysis Software. Over the last thirty-five plus years, Venable Instruments has refined and improved the FRA hardware and software, giving power electronics engineers unprecedented ability to develop products with predictable results.
Venable offers the most extensive line up of feature rich Frequency Response Analyzers, with instruments that have two, three or four input channels and bandwidths of 10uHz to 5, 20 and 40MHz. All of Venable's laboratory grade FRAs have fully isolated, floating inputs and oscillator outputs, rated to 600V peak. This generally obviates the need for injection or isolation transformers and voltage reduction probes. Additionally, Venable FRAs receive NIST calibration at no charge when shipped. For customers that need greater calibration traceability, Venable is the only company that can provide calibrations that meet the standards of Level II Z540.1 calibration certification.
The Venable Model 6300 Series is our popular two channel hardware/software system supplying the same functionality as all Venable FRAs, with the 6300 leading the industry with more integrated testing and measurement capabilities than any other instrument in its class.
The Model 350c Series incorporates a third channel, allowing the user to measure more transfer functions simultaneously, or source and load impedance with one sweep. The 350c is the only frequency response analyzer in the industry that can measure absolute phase, using an internal reference channel.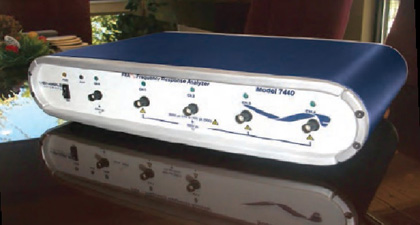 The Venable Model 7400 Series is the top of the line in performance, providing four input channels for increased testing, measurement and analysis functionality. Originally designed for measuring 3-phase impedance and source and load simultaneously, the Model 7400 is a robust solution for organizations requiring high availability for high volume and/or simultaneous testing.
The Model 8800 Series is the first in our family of digital frequency response analyzers (DFRA) and our latest technology patent as the only FRA commercially available that can measure the plant of a digitally-controlled feedback loop directly and accurately.
All of our lab instruments are a hardware and software systems, which includes Stability Analysis Software, based upon our renowned K-Factor analysis method originally developed by Venable. This full-featured software allows users to easily transfer data between plots, export data to and from other applications such as Excel® and MATHLAB, change sweep parameters during sweep, includes a simple SPICE-like program for modeling the AC frequency response of circuits, and is the only FRA software that has transfer function math capability.
Additionally, FRAs are used for making system input and output impedance measurements as well as characterizing passive components. Venable's Input/Output Impedance Measurement Set enables the engineer to perform input impedance, output impedance and conducted audio susceptibility measurements on systems while the systems are under operational power. Similarly, the RLC Measurement Kit provides an accurate, easy-to-use instrument for measuring values of resistors, inductors, capacitors, and parasitic elements.
Venable offers the widest range of scalable Frequency Response Analyzers to meet your company's current requirements, while providing a cost-effective growth path for increased testing functionality. Venable is a proven leader in aerospace, automotive, energy, defense, computer technology, academia, government research applications and virtually any industry requiring the highest standards in power supply and stability testing for repeatable and accurate results. For more information, please visit our website, www.venablecorp.com or call 512-949-3141.

Provided by Ford Mays, Sr. Applications Engineer, Venable Instruments
Editors Note: We would like to feature your company in a future issue of the Update. Please contact the Association Office for information about how to submit an article for consideration.