he APtronic AG, a recently added member to the Phoenix Contact-Group, has been a leading supplier of customized power supply for over 10 years. They are a company based in Germany, specializing in OEM products and services with focus on quality and customer satisfaction. APtronic is proud to provide German engineered products developed by dynamic teams with over 25 years of experience in the power supplies business. They specialize in the development, production and distribution of innovative customized power supplies for several application fields including industry and automation, telecommunication, medical engineering, banking and renewable energies.
APtronic provides engineering and project management throughout the developmental and logistical stages. The design and engineering of pioneering power electronics is carried out according to customer specification or on-site analysis to provide a tailored solution to each customer individually. The Quality Management System used by APtronic is certified to ISO9001 quality assurance standards. For competitive pricing, APtronic offers cost-effective manufacturing by their production partner in China under supervision of APtronic personnel on site with focus on quality and on-time delivery. For logistical services, APtronic supplies their products completely tested and certified, with labeling and packaging according to customer requirements.
APtronic works closely with their customers to create just the right power supply when a standard product is not a suitable solution. Regardless of order volume, APtronic creates design concepts for every power range from very low power products to kilowatt systems and turn them into finished deliverable products.
Provided by Martin Mühlenschulte,
Sales and Marketing Manager,
APtronic AG

A Leader in Powertrain Electrification
elphi is a leading global supplier of electronics and technologies for automotive, commercial vehicle and other market segments. Operating major technical centers, manufacturing sites and customer support facilities in 30 countries, Delphi delivers real-world innovations that make products smarter and safer as well as more powerful and efficient.
Delphi has a legacy of innovation in the automotive industry that spans more than 100 years. As a pioneer in the development of electric and hybrid electric vehicles, we provide vehicle manufacturers with more than two decades of experience in architecting hybrid and electric vehicle propulsion systems. We are aggressively lowering the cost of powertrain electrification through system design and architecture, component design and development, controls and algorithm development and manufacturability. We offer a robust portfolio of green solutions including DC/AC Inverters, DC/DC Converters, On-board Battery Chargers, Battery Management Systems, Energy Storage Systems, Battery Controllers, Vehicle Supervisory Controllers, Power Distribution Centers, Thermal Cooling Systems, Wiring and Connection Systems and Evaporative Emissions Canister Modules.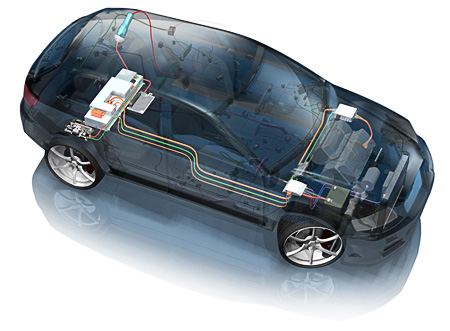 Customers can leverage Delphi's global strengths and in-market capabilities to speed the development and availability of state-of-the-art systems without comprising quality or system optimization. Our dedicated, global engineering team is able to work side-by-side with customers to create high-value solutions. We provide complete component modeling, analysis and test capability, and our teams are leading the industry in vehicle systems integration with computer-aided engineering, vehicle modeling, simulation and testing. Our Velocity™ suite of design analysis and simulation tools can optimize an entire vehicle electrical/electronic architecture.
We are also invested in technologically advanced development simulation and validation test capabilities for our hybrid and electric vehicle products. To ensure that we deliver robust designs, we simulate real world conditions by duplicating extreme environmental conditions. Our testing and validation capabilities include: high pressure spray, salt spray, temperature, humidity, mechanical shock, thermal age, thermal shock, salt fog, thermal cycling, vibration, acoustic and a full suite of electromagnetic testing capability.
Delphi's team is dedicated to this goal: "Be recognized by our customers as their best supplier." Not only do we design, simulate, test and validate components and systems with a proven process for manufacturability, our local expertise in high-volume manufacturing gives our customers the advantage of a high-quality, responsive supplier that provides cost-effective solutions. With 114 manufacturing facilities worldwide, our experienced team will exceed customer expectations with on-time delivery and superior service.

Provided by Ralph S. Taylor,
Staff Development Engineer, Delphi

s a leading global supplier of electronic interconnects, Molex focuses on designing and developing solutions critical to products that touch virtually every walk of life. The Molex portfolio is among the world's most extensive with over 100,000 products, including everything from electrical and fiber optic interconnect solutions to switches and solid-state lighting.
Molex serves customers in a variety of industries, including consumer electronics, data / telecom, industrial, transportation, medical, military and lighting. And because we have the highest levels of R&D investment in our industry, Molex is known for providing a continuous flow of innovation in areas such as high-speed signal integrity, miniaturization, higher power delivery, optical signal transmission and sealed harsh-environment connectivity.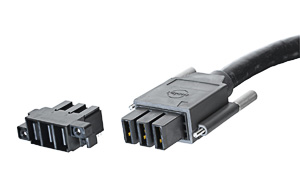 Molex is uniquely equipped to provide power delivery and power distribution in wire-to-wire, wire-to-board and board-to-board configurations. The company's wide selection of power connectors range from the versatile EXTreme Power™ connectors to the popular and proven Mini-Fit®, Micro Fit 3.0™ and KK connectors. These off-the-shelf connectors can be modified, customized or adapted to meet virtually any application requirement.

The Molex website is www.molex.com. Follow us at www.twitter.com/molexconnectors, watch our videos at www.youtube.com/molexconnectors, connect with us at www.facebook.com/molexconnectors and read our blog at www.connector.com.

Provided by Rich Benson,
Global New Product Development
Manager - Power Products, Molex


Editors Note: We would like to feature your company in a future issue of the Update. Please contact the Association Office for information about how to submit an article for consideration.